Please note some of useful tips & suggestions from us, while you apply new internet broadband connection at Chandigarh or Punjab. Ask your queries directly from Sales team of "Connect broadband services – Chandigarh" and clear all your doubts easily on telephonic conversation or face to face interaction. Here Below are described some significant advices while you fill a 'Subscriber Application Form' to book new broadband service.
Some Important things to be aware of, while filling SAF (Subscriber Application Form) :
Subscriber should fill the form by himself/herself with proper valid details. 
1.  Fill subscriber name, date of birth & check the spelling very carefully. It avoids unnecessary harassment in rectification of name/ address details after activation of your broadband connection. 
2.   Fill complete address of billing and installation with landmark and your working phone/mobile number. Your mobile number should be active and working, so that Connect broadband team can coordinate with you for installation time, billing and other updates. 
3.  We advice you to pay the registration amount in cheque. Cheque must be in favor of "Quadrant Televentures Limited" as described on top of SAF (Subscriber Application Form). Fill full details of your paid money in subscriber application form. (See Image Below)
4. Please provide your active email address for future communication & e-bill facility. 
5. Be careful while selecting your desired internet tariff plan. Fill & recheck your plan in SAF (Subscriber Application Form). 
6. Self attest all the xerox/photostate copies of  your documents and write "Only For New Connect Broadband Connection" on all copies of documents. 
7. Check whether Sales executive mentioned his/her name in space given at SAF. He/she must fill his employee code also. 
8. There is a space on SAF for customer signature. Sign it with current date. 
9. Ask for Carbon copy of SAF (Subscriber Application Form) filled by sales executive. It's serial number is important for you. 
10. Don't forget to ask for visiting card & phone number of sales executive. We will recommend you to capture a snap of  orginal filled SAF (Subscriber Application Form).
Hello! this is "connect broadband – direct sales team" Chandigarh. We assist you to book wired internet connections for chd, Mohali, Panchkula, Zirakpur or kharar areas. For instant booking or plan details, Please call : 9815269973 
Thanks.. 
---
Connect broadband :
SAF (Subscriber Application Form)
---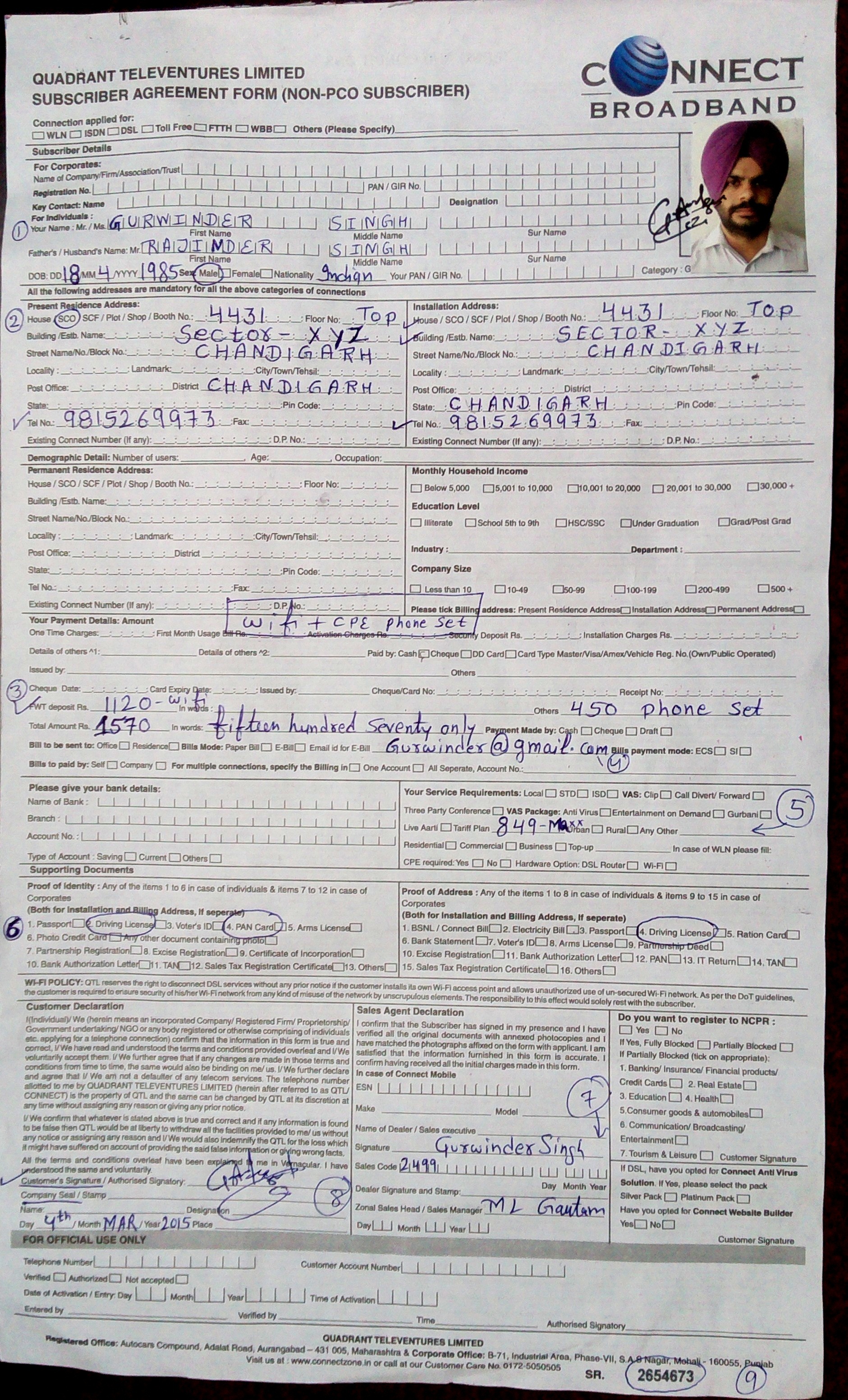 Ask our team members, which broadband connection plan would be best accoeding to your speed and data requirements. Share your monthly budget, desired internet speed and your address with expert sales team members of chandigarh, Mohali & Panchkula. No-one can  guide better than us.