---
Hello chandigarh ! Again CONNECT broadband has made some good changes in its internet service tariffs for chandigarh and Punjab. Connect Broadband data plans are revised with more benefits of data and faster speed in low monthly rentals for Internet subscribers of Mohali, Panchkula, Kharar, Zirakpur, derabassi and Chandigarh city. New tariffs packs of Connect broadband are now more affordable and more faster than earlier. FUP data limits are increased within same old rental prices. Connect announced good alternations in all of its DSL / Fiber FTTH and EoC Ethernet broadband packages. All of these modified Internet plans are available in Chandigarh and entire Punjab. Some more new sectors/ phases in tricity Chandigarh / Mohali / panchkula are now feasible with greater internet speeds (bandwidth). CONNECT is the best wired internet network to access faster speed while operating multiple devices like mobiles, PCs, laptops etc. at same time on single broadband connection.
Connect Broadband Plans brochure – Chandigarh
Here you can view & download 'Tariff brochure' of 'Connect broadband plans' for Chandigarh, Mohali, Panchkula areas. You can see online pamphlet of available internet packages/ plans. If you wish to learn more details about Connect broadband subscription plans for chandigarh, Mohali, Panchkula, Zirakpur and nearby areas, you can contact us on our provided contact numbers. Now free National calling is additional benefit for chandigarh & Punjab residents. Here you can easily download or get printout of brochure of CONNECT broadband's latest monthly rental plans. We always keep you up-to-date with our latest & up-coming broadband plans, discount schemes, booking offers, WiFi schemes, advance rental broadband plans, Government / corporate packages, and so more beneficial stuff. Even if you are going to book new broadband connection or already using "Connect broadband" connection in chandigarh, Mohali, panchkula areas… this pamphlet will help you to understand the revised tariffs of connect broadband internet service for residential and commercial internet subscribers. Don't worry! if something seems to be complicated in this pamphlet, we are here to explain all these broadband plans.
---
Connect broadband tariff brochure : Click on image shown below to see & Download Latest pamphlet of connect broadband plans for Chandigarh, mohali, panchkula, zirakpur, Kharar areas
---
Pamphlet : Connect Broadband plans for chandigarh Mohali Panchkula 
Most recent Connect broadband plan sheet is given below.
DSL and Wireless Broadband Tariffs Brochure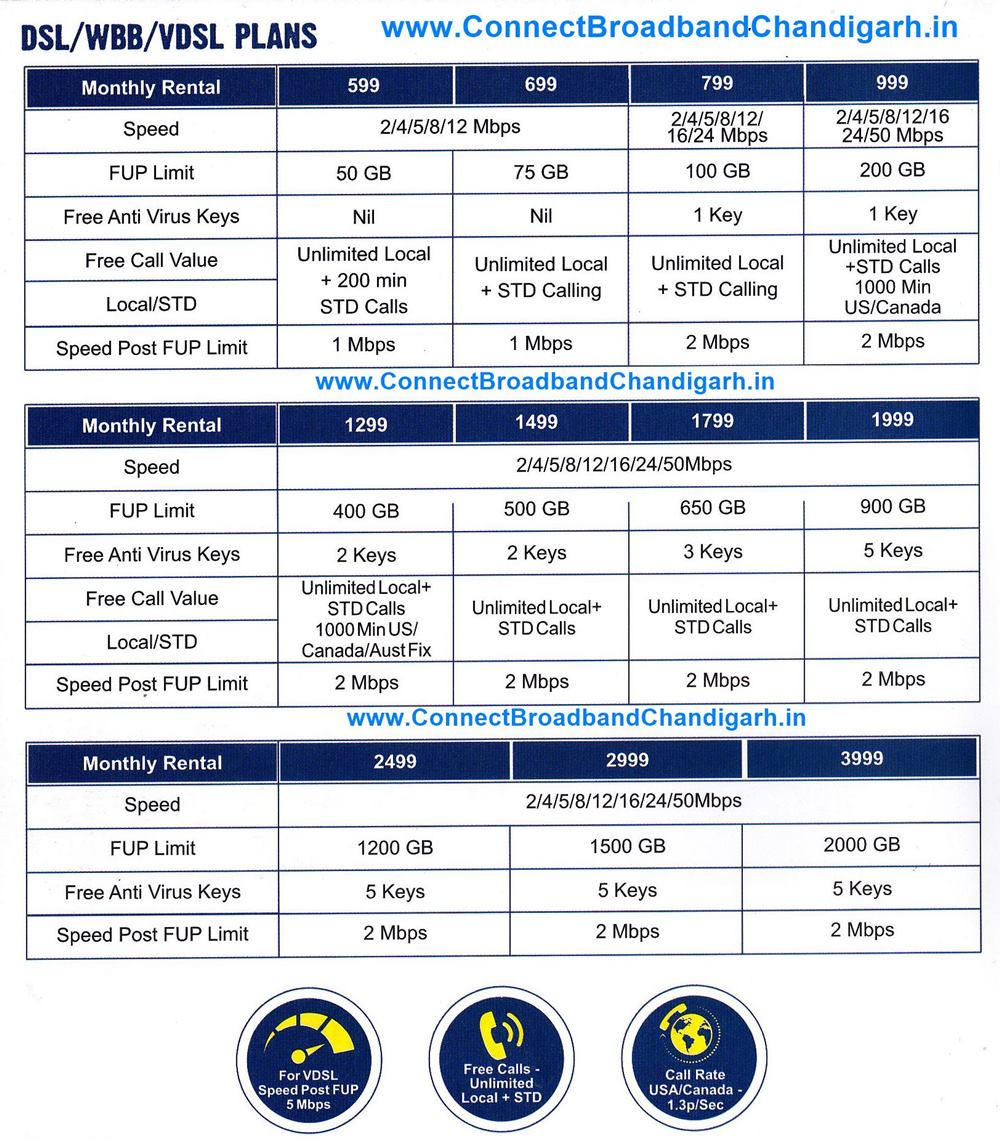 ---
These are Common plans so all these plans are applicable to all areas of chandigarh & Punjab.
2/4/8 Mbps means Maximum available speed : 2 Mbps, 4 Mbps or 8 Mbps. It varies area to area. To know maximum available speed at your location, Please communicate with us through phone call.
Free Unlimited calling to all Local + STD numbers is available in all plans with this feature, without any extra top-up cost.
Else than these described plans, there are some special plans for tricity chandigarh, which offer you extra data in economical prices. To know these special broadband plans, please select option from Main menu or Right side menu.
---
All these "CONNECT broadband" plans are applicable to Chandigarh, Mohali, Panchkula and all Punjab. CONNECT has launched FTTH broadband connectivity in some new sectors of chandigarh, mohali and panchkula. So customers of that regions can avail any speed up to 100 Mbps. For details of newly launching areas, Please see 'updates/ announcements' block on your right side column. We are thankful to our customers for their faith in our internet broadband services. If you are using our broadband connection, you are requested to post your review about our internet services, so that others can know about our performance.
---
---
Connect FTTH broadband plans for Chandigarh, Mohali, Kharar, Zirakpur & Panchkula.
Hello ! This is connect sales team Chandigarh. In some selected areas of tricity chd, CONNECT has launched FTTH internet connectivity. List of these areas is :
Chandigarh : 
Sector 34 : Residential (House number 1600-1800) and some commercial area.
Sector 20 A and D Chandigarh,
Sector 45 D, Chandigarh,
Sector-33 chandigarh
Sec-50, Progressive society, Chandigarh
Mohali: 
Sector-69, Mohali
Sector-71 Mohali
Panchkula :
Sector-21 Panchkula
Kharar (SAS Nagar) 
Sunny Enclave Kharar, Gulmohar enclave, Mata Gujri enclave, swaraj nagar, New sunny view, kendriya vihar.
Zirakpur : 
Vip Road : Savitry tower, Nirmal chhaya, orbit, Maya Garden, Hollywood, High street Market, apple.  MS Enclave ad near by area of Dhakoli / Dhakula
Derabassi :
Gulmohar city extension, ATS society Derabassi.
---
Brochure of Connect FTTH internet plans :
Click on image shown below to see & Download Latest pamphlet of Connect broadband plans for Chandigarh, mohali, panchkula, zirakpur, Kharar areas
---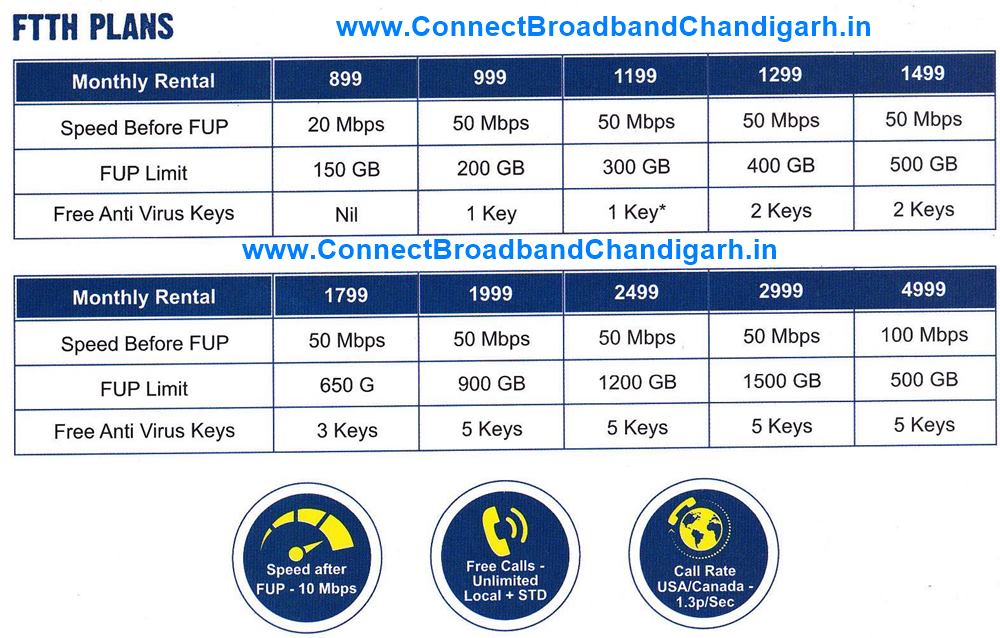 ---
EoC Ethernet over Copper : CONNECT is offering Ethernet services in chandigarh mohali & Panchkula. Although feasibility for CONNECT ethernet Eoc connection is limited to few areas but we are increasing its area of network as per demand. Here you can ask us about availability of eoc in your area & after confirmation of feasibility you can apply here online for new Connect EoC broadband Ethernet connection for your home. Get fast internet speed with wired cable network,, Book new EOC ethernet service connection for chandigarh, Mohali, Panchkula.
EOC ethernet plans brochure for Chandigarh, Mohali, Panchkula.

---
Every individual or business customer wants stable bandwidth, high internet speed, unlimited broadband plans,,, mean best internet services within budget. So why not choose the best internet connection providers in Chandigarh tricity area by opting for a basic low rental plan initially. Your search of best wire-line broadband service to access fast internet service uninterruptedly can end at CONNECT broadband service. To know more about the features of CONNECT services chandigarh, Panchkula, Zirakpur, Mohali, Kharar,, check our tariffs and sign-up with the lowest monthly rental scheme. You will be amazed to see performance of our internet services and never will be disappointed from CONNECT broadband connection. You will get trouble-free access to the technological web from best reliable internet service provider company – Connect broadband tariff brochure.